Ketika Anda Log On ke komputer berbasis 7 atau Windows Vista dengan menggunakan profil sementara, Anda menerima pesan sebagai berikut :
The User Profile Service failed the logon. User profile cannot be loaded.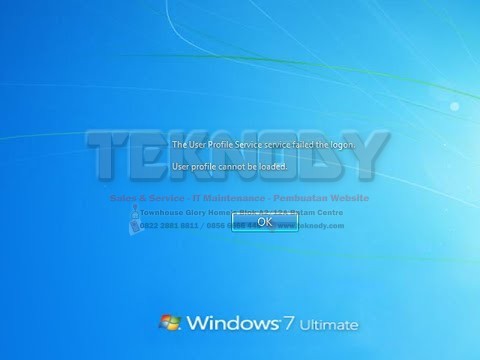 Solusi :
1. Coba Untuk Restart Komputer Anda, Jika Masih Belum Mengatasi Masalah Itu, Maka Lanjut Ke Cara Berikutnya
2. Menggunakan Registry Edit didalam Safe Mode
Langkah :
1. Restart Windows dan tekan F8 untuk masuk ke Safe Mode
2. Setelah di Safe Mode, silahkan login dengan Username dan Password sebelumnya
3. Tekan Windows+R dan ketik regedit, lalu Enter
4.
Pada Registry
Editor
, navigasi ke tempat berikut :
HKEY_LOCAL_MACHINE

 

\

 

SOFTWARE

 

\

 

Microsoft

 

\ Windows

 

NT

 

\

 

CurrentVersion

 

\

 

ProfileList
5. Di jabaran ProfileList akan tampak dua folder yang namanya berawalan S-1-5 (SID key) dan di ikuti dengan sejumlah nomor.
Yang membedakan kedua folder tersebut adalah satu dengan akhiran/ekstensi .bak dan satu lagi tidak memiliki akhiran
6. Klik kanan

pada

folder

tanpa akhiran/ekstensi

.bak,

dan rename dengan akhiran

.bk
7. Klik kanan pada folder dengan akhiran/ekstensi .bak dan hapus/buang akhiran .bak tersebut
8. Pada panel folder tanpa akhiran .bk, double klik RefCount dan ketik 0 pada value data kemudian tekan Ok
9. Pada panel folder tanpa akhiran .bk juga, double klik State dan ketik 0 pada value data, kemudian tekan Ok juga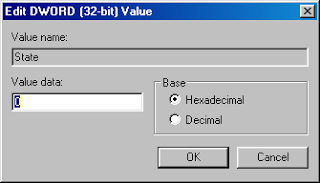 10. Hasilnya seperti berikut :
11. Setelah itu, tutup Registry Editor dan Restart Windows ke mode biasa. Maka Anda akan dapat Login seperti biasa
Selamat mencoba & Semoga bermanfaat !!!